INTRODUCTION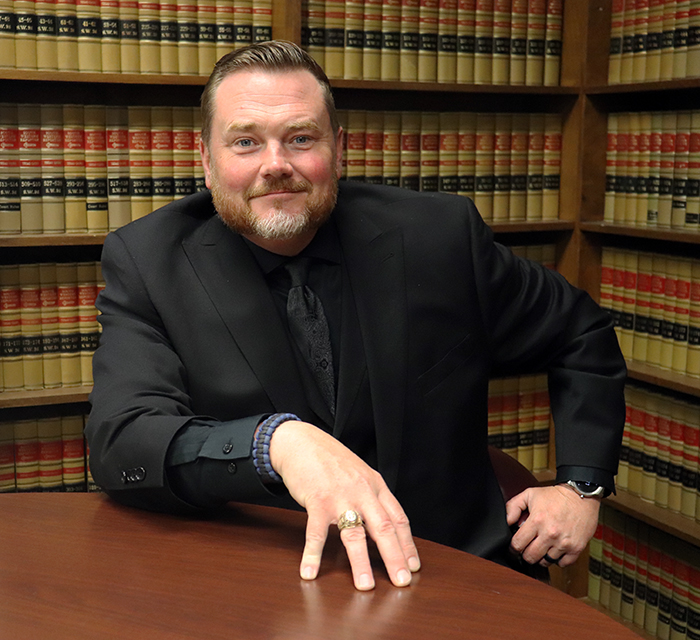 A good friend of mine loves to use the quote from Maya Angelou and often says, "when someone shows you who they are, believe them the first time." This page is to show you who I am. I hope you will see that who I am now is who I have always been and who I will be going forward. To kick things off I will share one of Maya Angelou quotes I really like:
"My mission in life is not to merely survive, but to thrive; and to do so with some passion, some compassion, some humor and some style." Enjoy.
"Justice consists not in being neutral between right and wrong, but finding out the right and upholding it, wherever found, against the wrong." Theodore Roosevelt
I BACK THE BADGE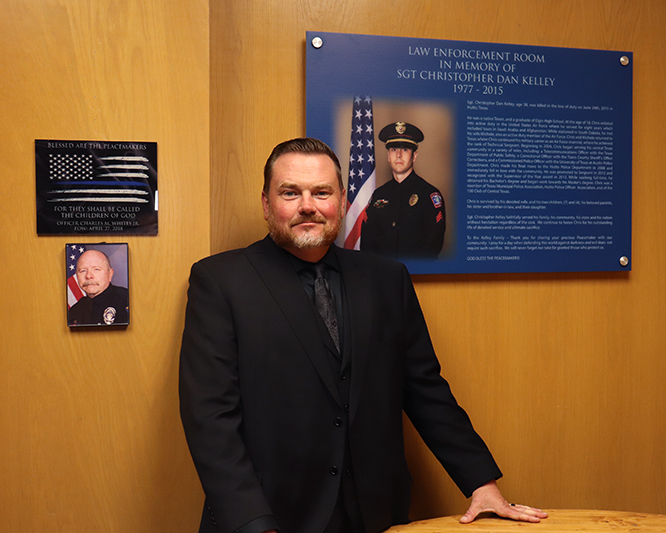 I back the badge. Always have, always will. My Grandfather was Chief of Police in Taylor, TX for many years. My Father was an Austin Police Officer as well as a deputy for the Travis County Sheriff's Office and later ended his career as an investigator with the Attorney General's Office. He was called into duty on the day of the University of Texas tower shooting. My mother was a Justice of the Peace for over thirty years here in Williamson County and I spent much of my youth attending death calls with her. A Justice of the Peace in Williamson County is the one who authorizes a deceased body be moved from a scene and authorizes an autopsy be performed. I witnessed as she notified next of kin of the deceased and how she delivered the worst news anyone can receive. She did this because back then, Williamson County was a rural county and we did not yet have the robust victim services personnel we have now. I remember that she took in a child around Christmas because CPS had removed the child from her home and Williamson County did not have as many foster care providers as we do today. That young infant stayed with us over Christmas and for several weeks. The disappointing thing about our current priority of children is that years later when I was prosecuting CPS cases I removed that child's children from her for abuse and neglect. Do not tell me there is no room for improvement.
As a child growing up in a law enforcement household and as a prosecutor for 19 years, I have seen first-hand the sacrifices made by men and women in blue. They don the badge everyday to protect the citizens of this great county and for that, they will always have my support. I believe most officers do a very hard job, very well. My hope and prayer is that each one returns home to their families after each shift and I can't thank them enough for the sacrifices they and their families make.
I have lost two officers during my time as the Elected County Attorney. I promised myself their names would never fade away as long as I had a platform for their memories and their sacrifices. Sgt. Chris Kelley of the Hutto Police Department (my hometown) was killed June 2015 by an individual fleeing from what started out as a routine traffic stop. I miss him greatly and my heart breaks for his family. "The Chris Kelley Foundation is a 100% all-volunteers, non-profit organization dedicated to perpetually recognizing the ultimate sacrifice of Detective Chris Kelley. This Foundation brings communities together to support law enforcement families who have lost their officer and those critically injured." Information can be found at chriskelleyfoundation.com.
The other officer was Charles Whites from the Round Rock Police Department. He was working traffic control on I-35 from a previous accident when he was struck by a vehicle in February 2018 and later succumbed to his injuries in April 2018. Officer Whites would often give money out of his pocket to the RRPD victim services personnel so they could place a victim of domestic violence in a safe place for a night. His wife has started a foundation to help victim service departments from all agencies here in Williamson County.
The Officer room at the Williamson County Attorney's Office (the room officers stay while they are waiting to testify in court) is named after Sgt. Chris Kelley and dedicated to him, Officer Whites, their families and the sacrifices every officer makes to keep us safe.

"Blessed are the Peacemakers"
(Matthew 5:9)
EDUCATION

I was fortunate to grow up in Williamson County. I attended kindergarten through senior year at Hutto. I graduated third in my class, don't get too impressed there were only forty students in my graduating class. I spent half of my time at Hutto attending a single campus that covered kindergarten through graduation. I then attended the University of Texas at Austin and my Freshman English class had more people in it than my city had population. I graduated from UT with a BA in Government. I went from UT to Baylor School of Law in Waco. Unfortunately, this was way before Chip and Joanna Gains became famous with HGTV show Fixer Upper. I graduated from Baylor cum laude. Each phase of my formal education (spanning 20 years) helped shape the person that I am today. From my teachers in Hutto, to the liberal campus of UT, to the conservative campus of Baylor.
I have made great friends and been educated by some of the finest individuals this world has to offer. I am very grateful for the opportunities I have had throughout my educational journey. Having a diverse educational experience helped me appreciate the diverse community we live in here in Williamson County and encourages me to meet all the needs of our community not just a portion.
FAITH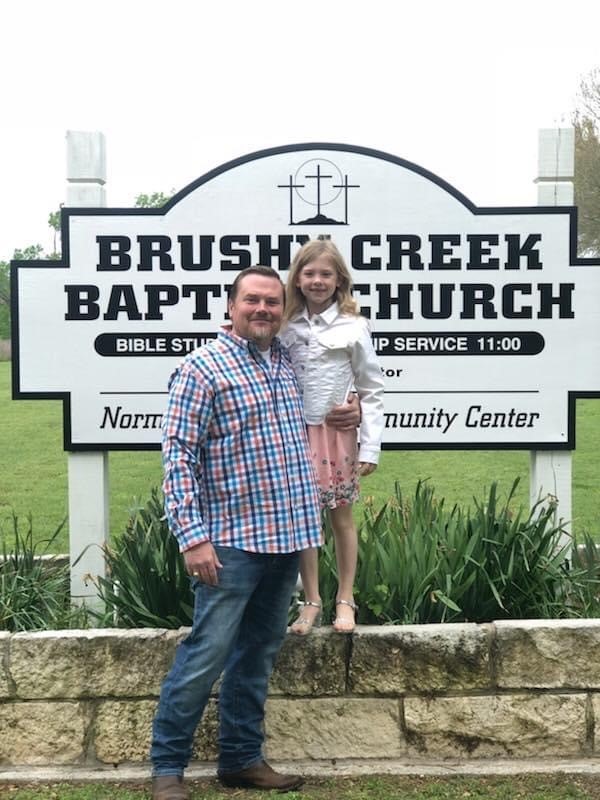 My Faith plays a huge role in the person that I am and it guides me in my profession. If you are not a person of faith or you worship another religion than I choose to worship, do not fear. My Faith teaches me to love all of God's creations. "The King will reply, Truly I tell you, whatever you did for one of the least of these brothers and sisters of mine, you did for me." (Matthew 25:40) I treat everyone equally because of my faith not because it is what I think you want to hear. I do it because it is the right thing to do.
My Pastor John M. Gurley led me to Christ as a young boy and mentored me through my life until his death in June 2018. He was a WWII veteran and a man of God and I miss him greatly.
In his absence Pastor Keith Jones now leads the flock I attend. It is a small country Church that usually has about twenty to forty people attend on regular Sunday's (Easter & Christmas there are a few more). I have led an adult Sunday School class for more than a decade. My opponent has tried to insinuate that my faith is a bad thing – I will not apologize for my faith and I will argue that it is my strength. I believe in a higher power watching my every move and that I will stand in judgement before that power one day. That means that I must do the right thing for the right reasons, God knows my heart not just my actions.
My faith places restrictions or tenants upon me, it is not for me to impose those same restrictions upon others. That is an individual choice and one our country was founded upon. I will give you an example of how my faith is not to interfere with my duties as County Attorney. If you click the following links: "Dee Hobbs soars on leadership's wings" and "Wilco issues same-sex marriage licenses" you can see the letter I wrote concerning same sex marriages. When the opinion was issued by the Supreme Court it was a Friday and I stated it was now the law. Our County Clerk would not issue them unless I said she should. Things became more complicated in our state when late that Friday the Texas Governor, Lieutenant Governor, and the Texas Attorney General encouraged local officials to delay or not issue marriage licenses to same sex couples regardless of what our United State Supreme Court said in their opinion. It may seem well settled now but at the time it was quite the controversy. I wrote the letter explaining my position (and reiterating the statement made the day the opinion was released) and telling the County Clerk to issue the licenses. If her staff refused, I volunteered my staff to sit in their place to make sure the licenses could be issued timely.
I follow the law of the land in which I reside. Unless and until it interferes with my personal freedom of religion and in anyway interferes with my ability to worship as I choose. I love my savior Jesus Christ, I love Texas, and I love the United States of America.
FAMILY
My family is very important to me. I work diligently at my job so my family (as well as yours) has a safe place to grow, live, laugh, and love. If it helps you in your decision on who to vote for, my wife endorses me! She thinks you should all "Vote Hobbs" in November. She made me write that. I wish it were that simple.
I love and want to make my parents, my wife, my daughter, my step-daughters, my sister, my brother-in-law, my nieces and my nephews proud.
I also have my Great Dane "Hank" he was named after my Civil Division Chief Hank Prejean who served the community with pride and heart. He was my friend and he passed away October 2017. Hank passed away after his morning walk and morning devotional, just before he was to get ready for work that day. I miss him deeply and named my K-9 counterpart after him because Great Dane Hank is training to be a service dog for the office. Hank, the man, did so much for the citizens of this county, many of whom will never even know how much he did for them. My hope is that Hank, the service dog, will continue that benchmark and help so many more. We will see.
HOME IS WHERE MY HEART IS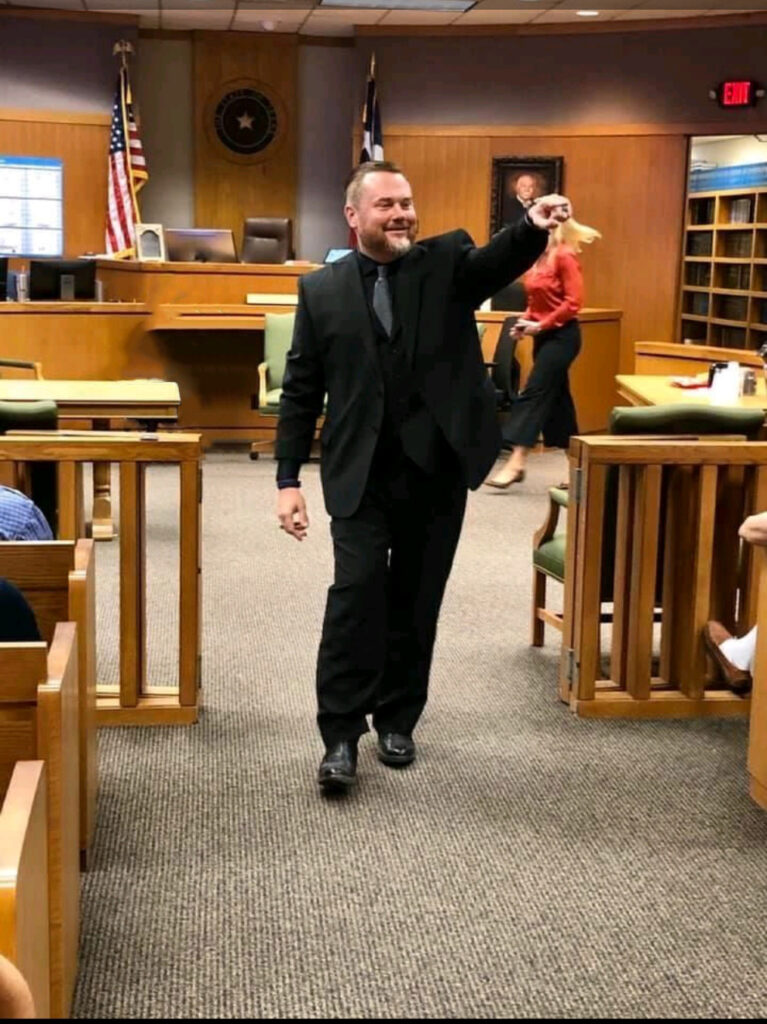 Williamson County is my Home. It always will be. I believe in our Community and the people that make it the place that it is. Getting involved in the community I live and work in has been the best decision I ever made. Whether it is volunteering with non-profits within the county, serving on boards of non-profits, or speaking to civic groups or Citizen Police Academies I have met so many of our citizens.
Williamson County is home to some of the most amazing people and it is my privilege to serve as your Elected County Attorney. I ask for your support in November, so we can continue to be a beacon of hope to those in our community and a torch to light the way for those outside our county looking for an example of how they improve their own community by making it a little more like Williamson County.